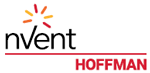 Proactively Prevent Thermal Issues in Your Cabinet
Thermal management solutions for optimal cabinet conditions

Incorporating thermal management within your industrial enclosures lengthens system life and increases control-line reliability. It's extremely important that system designers are aware of the temperature implications of their designs before implementation and, where necessary, take steps to reduce heat build-up inside enclosures. nVent Hoffman cooling solutions create optimal conditions for the reliable operation of electronic and electrical components in manufacturing controls, telecom equipment, data networks, and other vital systems.
Thermal-Management Challenges
Extreme temperatures can have these effects on industrial control equipment:
Catastrophic failures can occur
Silicone material properties can change
Drive performance is de-rated
I/C-based devices may experience intermittent fluctuations in output and voltage migration
Mean Time Between Failure (MTBF) decreases exponentially
The costs when a line goes down due to temperature extremes are:
Productivity losses
Increased labor costs
Increased scrap
Opportunity losses
Component costs
Missed ship dates
Decreased customer satisfaction
Trusted Thermal-Management Solutions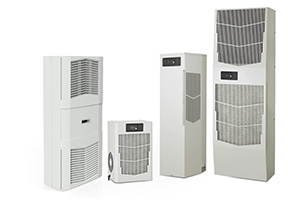 Energy-Efficient Rotary Compressor on Most Models
R407c and R134a Earth-Friendly Refrigerants
115, 230, and 400/460 VAC 3-Phase Power Input on Most Models
UL Listed to Save Customers Time/Money with Agency Approvals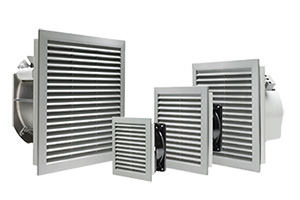 Click-Fit Design Quickly Installs into Enclosure Wall
No Tools Required
Opens with the Flick of a Finger for Easy Filter Replacement
Enclosure Side Wall Mounting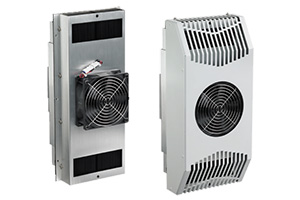 DC-Powered Operation for 24 V and 48 V Applications
Low Profile Design for Mounting Vertically and Horizontally
Filterless Design Reduces Maintenance Requirements
Contains No Refrigerant, Making It Earth-Friendly
Cooling Strategies
Choosing a solution to maximize the operational life of your electronics.
HOFFMAN COOLING SYSTEMS CHARACTERISTICS
COOLING SYSTEM TYPE
TECHNOLOGY DESCRIPTION
HEAT REMOVAL RANGE
ENVIRONMENT TYPE
TYPICAL APPLICATIONS
Cools
Below
Ambient
Cools
Above
Ambient
Closed Loop
Air Conditioners
Forced air
Refrigerant-based
High
Hot Environments
(typically over 35 C/95 F)
High Heat Load
(300W-17,300W)
Dirty or Corrosive Air Harsh/Humid Environments Hazardous Locations
Indoor or Outdoor
Industrial enclosures Telecommunications Wastewater treatment Metal working Foundry Oil & Gas Operations
✔
✔
Thermoelectric Coolers
Peltier effect
No moving parts or liquids
Low
Small Enclosures
Low Heat Load (60-200W)
Remote/ DC-powered applications
Indoor or Outdoor
Telecommunications Battery cabinets Industrial enclosures Security systems
✔
✔
Air-to-Air Heat Exchangers
Closed loop No liquids
Moderate
Cool Air Environment
Moderate Heat Load (7-150W/F)
Dirty or Corrosive Air Hazardous Locations
Indoor or Outdoor
Telecommunications Light-duty manufacturing Oil & Gas Operations
✔
✔
Air-to-Water Heat Exchangers
Close-coupled water cooling
No moving parts exposed to environment
Highest
Very Hot Environments
High Heat Load (870W to 6700W)
Extremely Dirty/Dusty Air
Hazardous Locations
Extreme conditions where air conditioners would be subject to failure
Automotive manufacturing
Machine tool
Packaging
Paper mill
Oil & Gas Operations
✔
✔
Filter Fans, Blowers, Impellers or Direct Air Cooling Systems (DACS)
Forced, fresh air Open loop
Low to Moderate
Cool, Clean Air Environment
Industrial manufacturing
Outdoor telecom
Data networking
✔
Vortex Coolers
Requires compressed air source
Forced air
No liquids or moving parts
Moderate
Hot Environments (typically over 35 C/95 F)
Heat Load (up to 1,465W)
Dirty or Corrosive Air Harsh/Humid Environments Hazardous Locations
Heavy manufacturing
Metal working
Oil rig/refinery
Paper mill
Foundry
Oil & Gas Operations
✔
✔
Conductive (no cooling unit)
Passive
Heat radiates through enclosure walls
Very Low
Cool Air Environment (<78 F/25 C) Low Heat Load (<50W)
Where enclosed components operate within recommended temperature range
✔
Per enclosure rating

Videos
Sources of Heat Affecting Equipment Performance
Choosing the Ideal Industrial Electrical Enclosure Cooling Solution
How to Maintain Standards when Modifying an Enclosure
Specifying Cooling in Hazardous Environments